I hope you have all had a wonderful christmas and are stuffed full to the brim with yummy food and happiness, I know I am!!!
Now before I carry on and waffle away to you a little about my makes, I have 2 very special words to say.......or scream......:)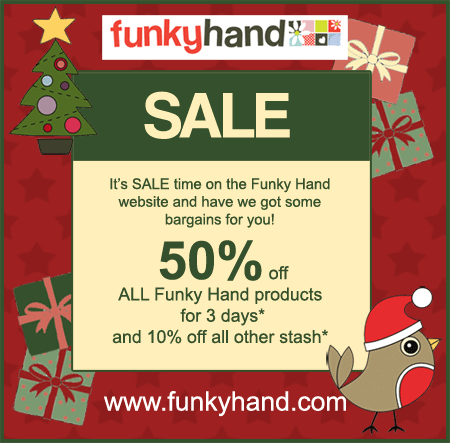 Its a perfect time then to get your hands on some Funky goodies!!! I loooove a sale!!!
Don't worry if you don't have any Funky Hand downloads yet because Anice has made an awesome
Funky 15th Freebie and it is available
here
it's gorgeous!!! I used it on all of my makes and I think its fair to say I may be addicted to it!!!!!
Hope you can find some time to join in the fun with us this month - you have until 14th Jan 2012 to add your entry to Mr Linky below, can't wait to see what you make!!
We only have only ONE rule, You must use at least one Funky Hand product.
Huge hugs Lou xxx